Portable Rig & Portable Loop
OE2WNL used the last weekends and spare-time for some handicraft work and build a new portable Rig and a portable Loop antenna
Portable-Suitcase-Rig
My Portable Suitcase consisting of the following:
Small Suitcase bought from Conrad-Shop
FT-857D
LDG-100 Tuner
PL, N antenna-plugs
designed and printed some parts on my Solidoodle 3D Printer
Powerpole connectors, fuses and
some wire
The main problem was the space – I choosed this small suitcase to fit into my backpack so my rig has to fit inside – it took a while after I found the perfect combination of the ft-857 and the LDG-100 and the cables etc..
Also I wanted to have the antenna and power connectors on the outside. After some hours of fiddeling and drilling and mounting – the solution looks like this: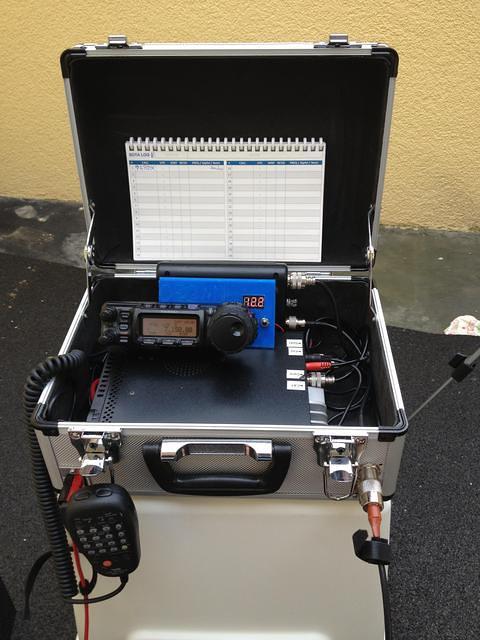 Portable-Loop
After that I looked up the internet for a tutorial for portable loop antennas. I found some great sites:
Big thanks to those guys!!
So I
cut some Ecoflex-10,
bought an electric-box,
PVC-Pipe,
tripod from my digital-camera
designed and printed some parts on my 3D-Printer (all the blue parts you see on the pictures) and last but not least
asked my neighbour Franz for some capacitors for testing. (special thanks for that 🙂
Thanks to the calculation-sheet from DL8NDG I aimed for a Loop of 1m diameter, so 3,142m of Ecoflex for the big loop and 62,8cm for the small loop (abt. 1/5)
As the capacitor is just a normal one usually used for just receifing – I tested it with 5W FM and saw no sparks jumping through the plates (10W already showed little sparks)
so I definitly have to go with a capacitor with greater distance of the plates – these can be bought from Schubert Gehäuse which I'm expecting to receife soon. I choosed DK4 and DK7 I will see soon how this works.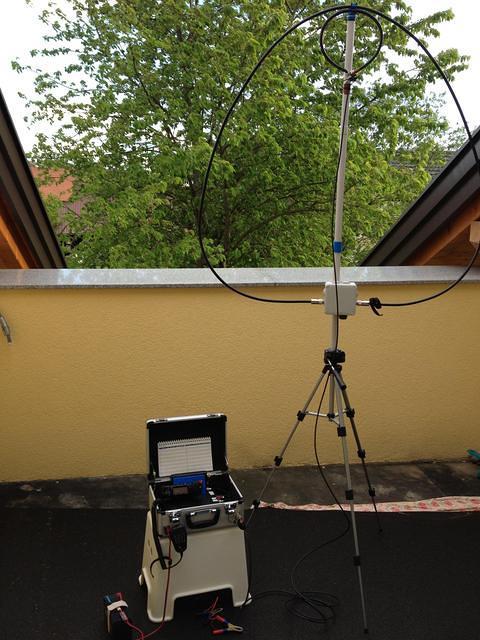 But back to my current setup with the small capacitor. As 5 watts seemed to work I definetly wanted to test my setup with QRP 5W only – and it should be sucessfully 🙂
I build up the antenna in about 4minutes, plugged the coax into my rig-suitcase, pluged my 12V 7AH battery in and started working.
After some searching I found a strong station on 20m GS3PYE/P was calling and having some stations answering. So a bit away I tuned the capacitor for maximum noise and tuned with 5W to lowest SWR. As there where some other strong stations calling him I tried more than once – but finally he recogniced the portable QRP station and gave me a real nice report of 56 with which I was very happy.
Later I tried again on 20m and heard a station from the azores CU5AQ I tried calling him and he answered me with real 57 report – I'm very happy about such nice reports.
A station from sizilly island IT9… on 40m was not able to hear me for a report so I guess the efficiency on 40m is not good – probably this can be enhanced when using the new capacitor and using 10 or 20W.
Summary
All in all I'm very pleased with the results – it feels great to build an antenna which works in QRP 5W mode into about 3500km distance. Sure band has to be quite and no strong stations beside – but with some patieness I can work europe stations.