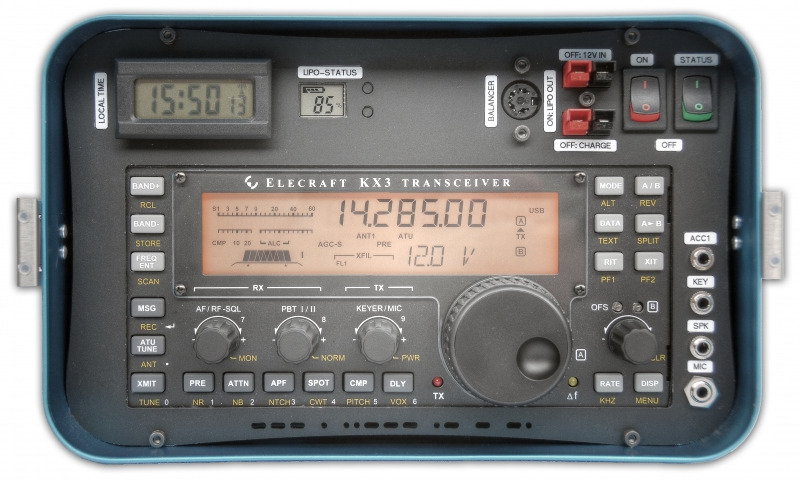 As I was contacted by a few HAMs where to get "my" box I would like to give you a little parts-overview. Unfortunately I`m not able to manufacture this box in a higher quantity so you will have to build it yourself. All the necessary stuff was purchased in european online-shops but for sure you will be able to find the same or equal parts in the U.S.
Watch some portable KX3 pics our

This box weighs 1,6 kg = 3,5 lbs – including the components listed below (except the charger) AND the KX3 with its ATU- and filter-option installed (no internal batteries) and a light weight (iphone) headset. My buddipole dipole antenna system weighs 2 kg = 4,4 lbs on top.

component
description
where to get
pic
SIGG case
the box is made of aluminium
very light weight
many different colors available
SIGG online shop
amazon
LiPo battery
4.000 mAh LiPo battery 11,1 volt
normally used for rc-helicopters
supplies between 12,6 and 10,8V
stefansliposhop
battery monitor
LAM-5 lithium-battery-monitor
little display to check battery voltage or %-load of the LiPo
elv electronics
clock
radio controlled DCF-77 clock
conrad electronic
LiPo charger
Robbe Power Peak A4 EQ charger;
stored in the shack; for charging the LiPo via 12V or 230/110V
stefansliposhop
panel
self-designed 1mm stainless steel sheet – download: .dxf-zipped | .pdf
Laser cutted and then fitted to the box with some little grinding.
Visit http://www.draftsight.com for free CAD software!
available via sotabeams.co.uk
laserteil24.com
3D fasteners
used to securely mount the panel
search for "GB4xM3″ in the QRP-shop
qrp-project
BNC-SMA-BNC
adaptors to route the antenna connector through the side of the box
ebay
other stuff
switches, connectors of your choice;
PowerPole connectors for charging the LiPo and powering the KX3 whilst in the shack.
your trusted supplier
Some velcro between the KX3 and the box can give additional support.
I used a textile tape at the inner edges of the big cutout not to scratch the KX3 😉
HB9TVK made his own box!
UPDATE 02/2014: I´ve added a BNC connector between the status switch and the ACC1 for a 2m antenna. A PTT push button has been built in as well (using ACC2).
DK6AH made his own box!
AK5SD made his own box!
.
my primitive circuit diagram:

Have fun and build your own solution to go portable! Comments appreciated!